How to Maintain Oral Health During Invisalign® Treatment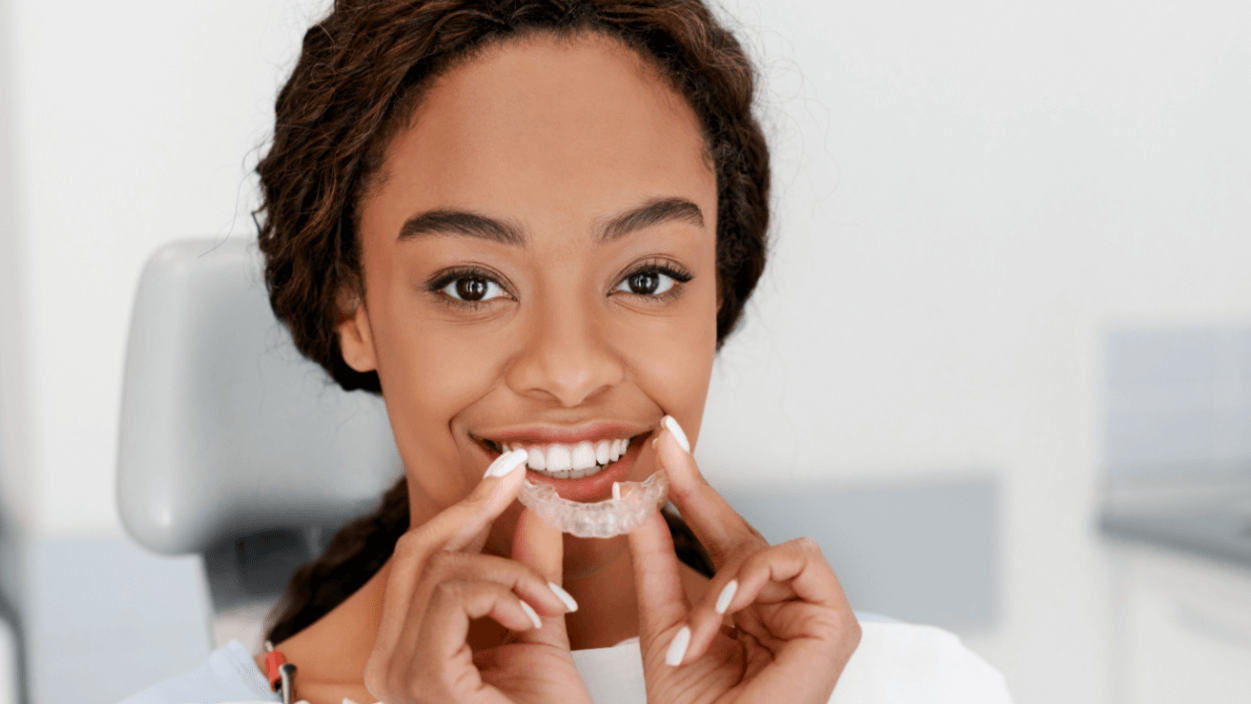 Our teeth are incredibly important – we use them to eat our favorite meals, have conversations with our loved ones, and show off our smiles. However, many people don't realize that even small issues with misalignment can completely change the way we do these things. Invisalign aligners from KFA Dental Excellence are one of the most effective ways to correct misalignment and keep our teeth in place.
One of the primary benefits of Invisalign treatment is that the clear aligners are almost invisible, making them perfect for someone who wants to improve their smile without worrying about metal braces and brackets. Angela Ferrari, D.D.S. can also provide ways to make sure your teeth and gums stay healthy throughout your entire treatment. Read our tips below or call our dental office in Farmingdale, NY to learn more about this unique program.
How do Invisalign aligners work?
All teeth serve a special function. But when your teeth are crooked, gapped, or misaligned, this can cause some problems. Invisalign treatment works through a series of custom-made, removable, clear aligners that gently shift your teeth into position. Aligners must be worn between 20 – 22 hours a day and properly maintained to be effective. Patients who don't take care of their teeth or aligners risk oral health issues, like cavities, plaque and tartar buildup, and even gum disease.
How do you keep Invisalign aligners clean?
As we mentioned, keeping your Invisalign aligners clean is very important. When you first get your aligners, the experts at KFA Dental Excellence can provide you with detailed information about cleaning and caring for your aligners at home, including removing them when eating to avoid getting food stuck between your teeth. Here are some other ways to keep your aligners clean throughout your Invisalign treatment in Farmingdale, NY:
Take out your aligners before brushing and flossing your teeth

Rinse your mouth with water or mouthwash before replacing the aligners

Use a special cleaning solution to wash your aligners (this can be purchased from a drugstore or provided by your dentist)

Store your clear aligners in a case for safekeeping when not in use
Why is maintaining oral health important?
Some people are intimidated by all the ways they need to keep their teeth, gums, and aligners clean every day. But you should know that the end results are worth the time and effort! Here are four reasons why maintaining proper dental health during Invisalign treatment is important:
To avoid pain: Problems like cavities can lead to pain and discomfort, especially when eating certain foods.

To avoid infection: Gum disease is an infection that causes swelling and inflammation in the gums. When left untreated, it may spread to other areas.

To avoid bad breath: Chronic bad breath may be the result of plaque and tartar buildup in the mouth.

To feel more confident: A healthy set of teeth will not only make you feel more confident but also look more attractive when smiling.
Improve your oral health with aligners
Invisalign aligners are an excellent alternative for men, women, and teens who want to get a perfect smile without the hassle of metal braces or wires. With Invisalign treatment in Farmingdale, NY, many people can achieve their desired smiles as long as they continue to take good care of their teeth. If you're ready to improve your smile and treat misalignment, call KFA Dental Excellence to meet with Angela Ferrari, D.D.S. We can explain your treatment options and more.